Blue Monday 💙
17 Jan, 2022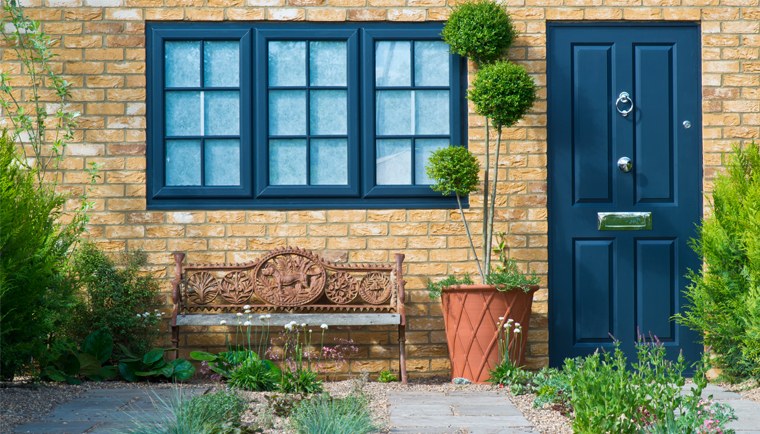 Today is reportedly the most depressing day of the year! Blue Monday is the point where we start to feel the slump after the festive season, the Christmas bills start to arrive and Payday is still another week off.
With no holiday plans on the horizon for this year, many of us are looking at ways to improve our living spaces instead.
We are looking at what the colour Blue can mean around the home and ways in which we can bring some sunshine in during this period.
Paint your Front Door
First impressions count!
Blue is the most popular colour for a front door in the UK, it is associated with peace, tranquillity and quiet intelligence. Painting your front door blue can signify that you have transformed your home into a peaceful safe haven.
Painting your walls Blue

Dark Navy tones were bang on trend in 2020 but painting your walls in natural shades of blues or greys can really open up the space and make your room feel larger. Keeping shades neutral when selling your homes helps potential buyers envision themselves living in the space.
Choosing the right colours for your home can be the key to adding to the value. The most popular rooms in the house to paint blue are the Kitchen and the Bathroom.
Painting furniture in colour trends
If you are not feeling brave enough to add your favourite colours to the walls of your home, how about making a feature from some furniture. There are always plenty of upcycle bargains to be had on site like eBay, Gumtree or Facebook Marketplace. Consider refurbishing a piece of furniture in that trendy shade you've had your eye on!
This can be a fun way to keep you busy in the evenings and give you a weekend project to look forward to.
Using colour accents in your interiors
An effective way to bring colour into any room without having to reach for the paintbrush is via soft furnishings. Keeping your room neutral and adding accent colours can mean you are able to regularly change your style and keep up with new trends. Adding coloured cushions, lamps or paintings to a room in a colour theme can really give it that extra lift and a chance for your to put your own stamp on the interiors. This is a great option if you are renting a property.